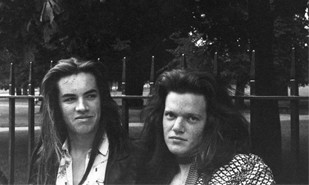 1980
Ben Richardson and his best friend from school, Mike Trevillion, set up Metro as a two-man operation providing black and white printing from premises in Great Titchfield Street. Charlotte Wylie joins them soon after, so they have to start behaving themselves. An energy and passion for the business soon earns Metro a reputation for quality and innovation and establishes the UK's original photographic imaging company.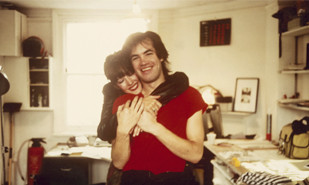 1982
The business rapidly expands as a skilled and committed team is established, and R-type printing is introduced.

1983
The team pass round the hankies when Mike leaves Metro to start a new project. He remains thankful they didn't buy him a carriage clock! Ben takes over the challenge of keeping the business moving forward, whilst maintaining and improving their core values of client and staff care. Meanwhile, the lovely Chris Jackson joins to set up the colour department.

1985
Metro relocates to larger premises in Great Sutton St, and introduces E6 processing at Clerkenwell Rd. Always looking for new ways to best meet the needs of its clients E6 is soon expanded into a 24/7 facility.

1990
Building on the success of their 24/7 E6 lab, Metro open another in Chelsea. At the same time a colour laser-copying department opens in Clerkenwell Rd.

1992
Two photographic hire studios are opened in Peartree St.

 1993
As an industry innovator, Metro expands into the field of electronic imaging, to run alongside their traditional silver halide-based imaging.

1995
Metro moves into its new premises at 76 Clerkenwell Rd. The five-storey building has been completely refurbished to provide the most up-to-date facilities, including a purpose built daylight hire studio to complement its existing studios.

1996
The colour department is expanded to respond to the increasing demand for C-type printing. A 24/7 C41 colour processing and contacting service is also introduced.

Mar 1998
Metro recognises that an increasing number of photographers want to work on a one-to-one basis with its renowned specialist printers. They launch Metro Art to produce custom prints of the highest quality and guarantee a level of service second to none. This exciting new department is given its own premises in Great Sutton St, and a mounting and finishing department is also launched.

2001
As the business evolves Metro Online is launched to offer a range of services to manage visual assets online. Never a company to rest on its laurels, Metro then buys a controlling share in the lighting hire company Direct Lighting to complete their end-to-end service, which now also includes film sales. Direct's Steve Knight is given a nice cup of tea, a posh biscuit and welcomed into the family.

2003
A keen eye for what's going on in the industry sees Metro launch a Digital Shoot Hire department to cater for the increased migration to digital capture.

2005
It's cheerio to the Chelsea branch, as the migration to digital continues, and howdy partners to The Horsemen, as Metro acquires this company to become the largest and most respected player in the market.

2006
Metro, Direct and The Horsemen are consolidated to become trading brands of The Metro Group. Direct also moves to new premises in Waterloo and a hire studio is incorporated and run as Metro Studios.

2007
Metro's characteristic adaptability and flexibility, which has kept them thriving at the forefront of an ever-changing market, sees them relocate to cosier premises in Great Sutton Street as the demand for film processing and printing continues to decline.

2008
Metro closes the Soho branch and shakes off the past with a new logo. Direct take over the running of the studios in Hercules Road and form a new partnership with Little Yellow Jacket following the disbanding of The Horsemen brand.

2009
Metro take delivery of one of only ten Superwide Lightjet 500XL printers making us one of only two commercial printing labs in Europe to be able to print to 72" wide.  It is the only photographic printer in the world which can print to 10ft x 6ft in one section making it the number one choice for fine art photographers.
The Lightjet had to be craned over the building into the courtyard at the back whilst Great Sutton Street was closed a wall was dismantled and rebuilt around the printer!

2011
A very busy year – Metro launches the new online print service – Metroprint.  This colour-managed, print ordering service provides all the expertise and professional service Metro have always offered with the added benefit of not having to leave your screen.
Metro continues to expand and introduces its Inkjet Creative Studio offering the latest generation Epson machines so clients can now experiment with outstanding quality prints of up to 64" in a uniquely equipped studio facility.


2012
Metro is granted the Royal Warrant by His Royal Highness The Prince of Wales. This is a mark of recognition of our close relationship as a supplier and over many years, to the Duchy of Cornwall, as well as a commitment to the highest standards of service and excellence. To date HRH The Prince of Wales has granted only 159 warrants making us one of a select group of companies and individuals.

2012
The Metro mounting department expands to now include bespoke, handmade frames. Our new finishing department opens in Vauxhall and offers a full range of mounting and framing options as well as Lightboxes. This end-to-end solution is the perfect package for artists looking for production management, printing, retouch, finishing and installation all under one roof.

2013
Metro spots a gap in the market and develops the free Metroprint Instagram app for iPhones and Androids, to compliment the current print service for online orders. Being a professional fine art lab and at the forefront of the business, Metro now offers full services on all levels to hobbyists, amateurs and pros alike.

2014
Forever looking for new and innovative services to offer clients, we purchase a Jetrix Flatbed Direct To Media printer. This new machine opens up a whole new range of services we can provide as the image is printed directly to the material, cutting out the photographic print option. This means a faster service, quicker turn around times and of course multiple options for print. Choose from Perspex, Aluminium, wood, glass and so much more – limited only to your imagination.

2015
A busy year for Metro: we went to China with The Photographers' Gallery to produce over 400 prints, we gave our iconic Front of House at Great Sutton St – a brand new gallery space! We kick it off with a Direct to Media exhibition to co-inside with the widely acclaimed Clerkenwell Design Week, proving that not only are we a photographic lab, but we work with all creatives, word wide. We also design a brand new site for Metroprint, now users can order prints, mounting and framing from their computer, tablet or phone.

2016
Metro's Framing and mounting department expands and relocates to great new premises in Tinworth street SE1

2017
Metro combine Metro Imaging and Metroprint in one great new website, keeping the Metroprint website live for those that like the simplicity!